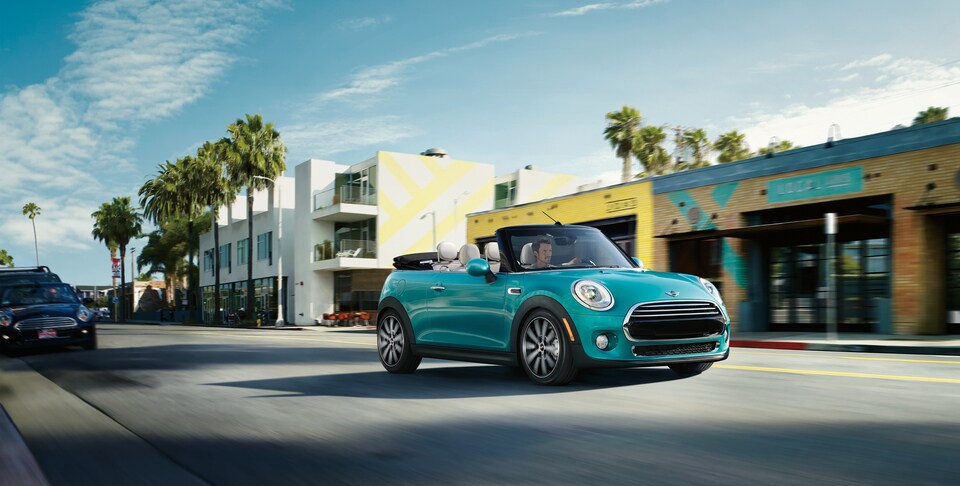 ​If you're trying to decide between the MINI Cooper Hardtop and the MINI Cooper Convertible, it mostly comes down to personal preference and whether you want the opportunity to feel the wind in your hair as you drive down the road thanks to the Cooper Convertible's three-in-one soft-top roof or if you're perfectly happy keeping the outside, well... on the outside.
So, what's the difference?
Seating
Beyond the obvious, the first major difference you'll find between the hardtop and convertible styles of the MINI Cooper is the number of doors and seats.
The MINI Cooper Hardtop 2 Door and MINI Cooper Convertible both boast two doors and seating for four, so you won't find much of a difference there, but you can also choose the MINI Cooper Hardtop 4 Door which adds two more doors and one more seat, bringing the seating total up to five.
Performance
MINI Cooper models, both hardtop and convertible, offer the same equipment options under the hood, so you can expect similar levels of spectacular performance no matter which one you choose. The Cooper Convertible is a bit heavier than the Cooper Hardtop models, but it can accelerate from zero to 60 miles per hour a little quicker.
Which One is Right for You?
The MINI Cooper Convertible is designed with your love of fun and adventure in mind. It even offers a special smartphone app that warns you if inclement weather is on its way and your soft-top is down, helping you to avoid the usual pitfalls of driving a convertible.
The MINI Cooper Hardtop models trade open-air capability for a bit of extra passenger and cargo space. Of course, you can always opt for the dual-pane sunroof to let in some sunshine!
Stop by today to explore our inventory and see which MINI model is right for you!